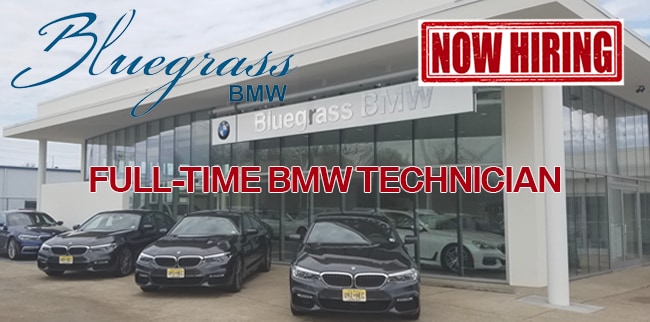 We have an immediate opening for a CAREER-MINDED individual with previous service tech / auto mechanic experience to work at Bluegrass BMW!
If you want to work for a successful organization where you can make a difference, then this is the place for you. Previous Automotive Service Technician / Mechanic experience is REQUIRED for this position!
Primary responsibilities include, but are not limited to:

· Perform work as outlined on repair order with efficiency and accuracy utilizing BMW Diagnostic and Programming equipment.
· Diagnose vehicle malfunctions and recommend/perform appropriate repairs.
· Examine vehicles to identify necessary repair or safety items that may not be included on the repair order, and communicate to Service Advisor or Service Manager.
· Notify Service Advisor if work cannot be completed as promised.
· Attend and successfully complete factory training as required.
· Understand and follow federal, state and local regulations, such as those governing the disposal of hazardous wastes.
· Meet all requirements of state and federal law for automobile repair and consumer protection.
Service Requirements:

· Genuine desire to serve
· Possess leadership qualities
· High School Diploma
· Ability to handle multiple tasks at once
· Meticulous attention to detail
· Enthusiastic presence and work well with others
· Must have a valid State of Residence Driver's License
· Must have a technical mind
· Desire to be the best
Please apply by emailing resume to Dan Darden at dan.darden@bluegrassbmw.com or come by Bluegrass BMW for an application.
Job Type: Full-time